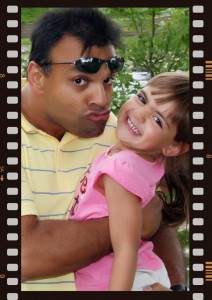 A Formal Software Engineer:
A Graduate from Moorhead State University with B.Sc in Computer Science, worked for Mattel and other Consulting Firms around the Twin Cities after College.
A Dad:
Yep! We have 2 very active kids who are in elementary school. This gives me more time in the field during the school year. Summer schedule changes as kids are with me most of the day. This summer they will be helping with the photo shoots.
A Professional:
We started our Photography business over 15 years ago and most of our clients have been thru referrals only. We appreciate that very much.
What People Say about us:
Moses is a true professional in every sense of the word. He takes time to get to know his clients, to find out who they are and what they are about. His photographs are beautiful, artistic, and personal. He knows how to capture the best moments during the session, which makes for great pictures. I highly recommend Moses Yuhanna Photography. – Susie Larson -Author/Speaker
"Yuhanna Photography has provided Tristar Homes with excellent service and professional photographs and virtual tours for our building business. We are extremely pleased with Moses' unique style and would highly recommend Yuhanna Photography to take pictures of your special occasions or business needs." Patti Mundt – Owner Tristar Homes LLC "Building with Quality"
"We enjoyed every aspect of working with Moses Yuhanna Photography. From our initial meeting to the day we picked up our pictures they were fabulous. They took the time to make sure our day would be as smooth and stress-free as possible. Moses is energetic, creative and has real passion for his work. Both he and Gwyn made the wedding photography very relaxed and fun, but balanced this by always being professional. The quality of his work is second to none and we would highly recommend him to anyone looking to capture the memories of their special day." – Matthew and Heidi.
"Working with Yuhanna Photography was an absolute delight. Moses and Gwyn made us feel at ease from our very first meeting, making us feel like friends rather than clients. They worked with what we wanted and offered a lot of creative ideas for us to consider, wanting us to be in control of our wedding photos. We had complete trust that our wedding album was going to be amazing and we are so proud to show off our montage album. Thanks Moses and Gwyn for making our wedding photography a fun and memorable experience!!" – Brandon and Kamille
"Moses Yuhanna began providing photography for our company 5 years ago – before he started Yuhanna Photography. We followed him from his past employer and have never looked back! The quality of his work is beautiful. His availability, his demeanor and professionalism make him very easy to work with. Beyond using Moses' services for Virtual Home Tours (including bubble spins, still shots, and 360's) of our real estate listings, he has photographed each of new construction builds. We and our employees have personally used him for Weddings, Senior Photos, and Family Portraits. There is none better! Thank you, Moses, for doing what you do so well." – Powell Realty / Powell Homes
We truly appreciate the work that Moses has done for our company. His photos have helped to highlight our companies products beautifully and we've used many of them to help build our marketing material. His work is very professional and we'll definitely recommend him to others. – Greg Moore -Owner fifthwalldesigns
Over the past few years you have done an outstanding job with the 360 tours, still shots, and high resolution photos that you have taken of existing homes and new construction home for me. You also did a fantastic job with the continuous running DVD that you created for us to play during model hours and the parade of homes. The people who came through our homes were very impressed with the quality of the DVD and the pleasant music playing behind the picture show. I have also used the 360 tours that you created for me on CD as a marketing tool after I have sold new construction homes and I have given the CD's to home buyer's of new construction homes as part of their closing gift. If you ever have a client that would like to speak to someone that has worked with you in the past I would be happy to give you a glowing recommendation. – Ryan Diekow formally with RE/MAX associates plus now Vice President of Oxygen Service Company
"I use Yuhanna Photography's virtual tours for all of my listings. My clients have been very happy with the quality of the virtual tours and still pics. The seller's of my last listing commented on how their MLS pictures were much better than the photos for the other homes on the market in their area. Their home sold in 3 days thanks to Yuhanna Photography! Thank you Moses."
–Sherri Bode Bjorklund Realty
Over the past few years I have had Moses take photos and do the virtual tours for many of my listed homes. I have been extremely happy with the results. Most importantly, my clients have been very happy with his professionalism and the photos and tour. I would recommend him to all my friends and clients. –Clare Misener Edina Realty